Colorado State Symbols - State Mineral Rhodochrosite
04.01.2016
This week I'm starting on Colorado's state rocks and fossils, beginning with the Colorado state mineral, rhodochrosite. Designated in 2002, rhodochrosite is found in many areas of the state, but none of the mines are as famous or as important as the Sweet Home Mine near Alma, Colorado. This picture is of "The Searchlight" rhodochrosite crystal found in the Sweet Home Mine.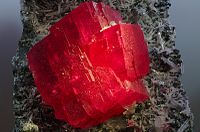 Sweet Home mine is about 90 miles southwest of Denver located at the timberline on the Mt. Bross side of Buckskin Gulch. The crystals found here are considered the best in the world - transparent to translucent pink-red rhombohedron crystals. Less pure and more pinky crystals are also found here and in other mines around the state. Even less pure crystals are pink, white and brown banded opaque. All are beautiful manganese carbonate minerals. The crystals are fairly soft - only about 3 to 4 on the Mohs scale AND the crystals have perfect cleavage in three directions, so they are quite difficult to cut. This picture is of pink rhodochrosite crystals from one of the mines near Silverton.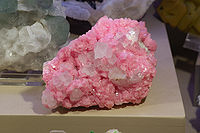 Rhodochrosite is often found in silver mines in Colorado and in Argentina where it got the alternate name. Turns out magnesium carbondate destroys the amalgmation process used in mining silver - so they used to throw the rocks away! Sweet Home mine was originally a silver mine - until the 1960s. Currently, the Sweet Home mine is not producing any rhodochrosite. It takes eight people to maintain the Seet Home mine. It takes a great deal of time to find pockets of rhodochrosiste - it can be as long as two years between significant finds.
In 1994, workers in the Sweet Home mine discovered a tunnel, about 2.5 meters in diameter with thousands of pieces of rhodochrosite. It took six weeks to collect them all. It was then purchased by the Coors Co. and donated to the Denver Museum of Natur & Science in the Coors Mineral Hall. The "Denver Wall of Rhodochrosite" was reconstructed and has over 3000 specimens. Some of the crystals are over 7 cm long. This is a picture of workers reconstructing the Wall.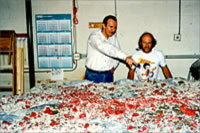 And this one of mining in Sweet Home.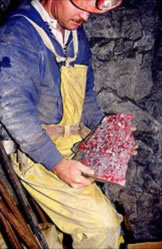 Lots of other former silver mines have rhodochrosite in them - they're all privately owned as well. Some of the other mines are: Climax Molybdenum mine near Leadville; John Reed mine, also near Leadville; Julia Fisk Mine near Leadville; the Gilman mine in Gilman, a ghost town; Mary Murphy mine near St. Elmo, a ghost town; American Tunnel mine near Silverton; Grizzly Bear mine near Ouray; and the Mountain Monarch mine also near Ouray. This pic is of the Mary Murphy mine from the Colorado ghost towns web.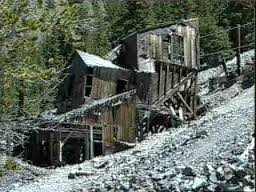 Rhodochrosite is also found in Argentina (their national mineral) and Romania (first discovered there). The Incas believed that the rhodochrosite crystals were the blood of former rulers turned to stone. It's found in many silver mines and in caves in what is now Argentina and is also known there as Inca Rose or Rosa del Inca.
Some believe that rhodochrosite helps to conduct energy and can boost self-confidence. Some also believe that these pink crystals balance and enhance love on all levels This picture of a specimen or rhodochrosite shows where the nickname comes from. It's from gemstonemeanings.us. The cab is a nice one from astrolika.com The faceted rhodochrosite is from Mt. Lily gems.