Connecticut State Symbols: State Fossil Dinosaur Track
04.05.2016
I've been to Connecticut many times, but for some reason I never realized that dinosaurs are a very big deal there. In the mid 1960s, while breaking ground for a new state building, over 2000 dinosaur tracks were uncovered in the Connecticut sandstone formation in the Connecticut Valley. The tracks are believed to have been left by large bipedal carnivores during the Early Jurrasic period (200 million years ago) along what was then a shallow lake. This area is now one of the "foremost dinosaur track locations in the world" according to the Connecticut state website. This photo is from the statesymbolsusa.org site and is a close up of a dino track at this location near Oak Hill.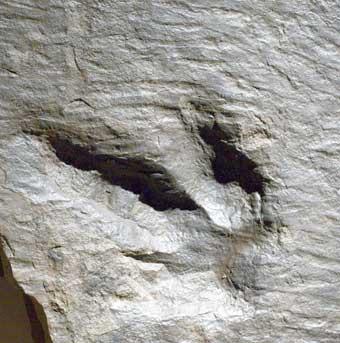 Note that this is a three-toed track ending with a claw. This is called a Eubrontes Giganteus and refers to the shape and size of the track, NOT the species of dinosaur that made the track. There were multiple dinosaurs with three toes on their feet, and it is difficult when no other fossils are present to determine which dino made a specific track. Scientists who have studied the CT tracks believe the dinosaurs were possilbe relatives of Dilophosaurus or from a platerosaurid. Probably an 18-20 foot long predator. A typical Eubrontes track is 25 - 50 centimeters long. Here is a picture of the quantity of tracks at the Oak Hill site where there is now a state park.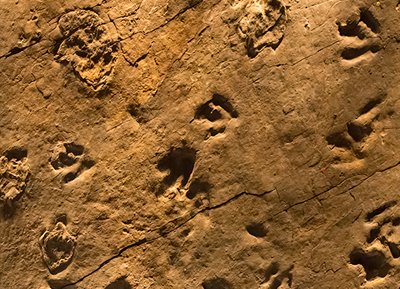 The Dinosaur State Park opened in 1968 and is celebrating its 50th anniversary in 2016. There will be special events all year, with a kick off on April 16. About 500-600 tracks have been preserved under a geodesic dome; the rest were re-buried for preservation. One of the fun things to do at the park is to make a plaster casting of a real dinosaur track. For more information on the park go to dinosaurstatepark.org
But the Dino park isn't all there is to do in Connecticut if you love dinosaurs. The state has put together a Dino Trail which includes participating hotels with discounted rates. In addition to the State Park, the Connecticut Science Center in Hartford has a pterosaur fossil and a fossil dig pit for kids. Here's a photo from their web.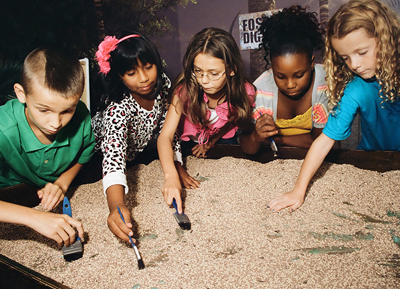 The Yale Peabody Museum in New Haven has lots of dinosaur skeletons on display. Here's a photo from their web.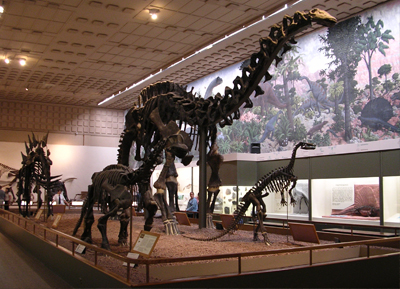 The Dinosaur Place at Nature's Art Village in Montville has a fossil dig, a gemstone dig and a place to pan for gold. All are, of course, salted so kids can find a souvenir, but it's fun way to introduce kids to rockhounding and to learn about fossils. They have "life size" dinosaurs throughout.
Finally, on the Dino Trail you can go to Lake Compounce in Bristol. This is an amusement park, however they have a dinosaur "expedition" with animatronic dinosaurs.
Unfortunately, past glacial activity has wiped away most fossils in what is now Connecticut. However, the Connecticut Valley used to be a tropical/equatorial forest with lots of fish, amphhibians, insects, reptiles and dinosaurs, who all left evidence behind. Footprints and small plant and fish fossils are the most abundant. Fish fossils are generally found in the black shale sediments of the Valley. So, while not easy to find, there are fossils out there, and hey - getting to see all those footprints is pretty cool.