Rockhounding in Colorado
04.03.2016
In poking around for information on rockhounding in Colorado, I found too much information to share! For example, just in the Salida, CO (again in Chaffee County) area I found:
Brown's Canyon; follow Chaffee County Roads 193 and 194. Old mines can be found off the side roads. You can locate fluorite, placer gold and copper. Dig through the tailings.
Marshall Pass: along the old abandoned railroad grade you can find jasper, marble, geodes, picture sandstone, rhyolite, and fossils.
Poncha Pass: between San de Cristo Range on the southeast, and Sawatch Range on the west and northwest, you can find sheelite. You need a black light at night to locate this mineral.
Ruby Mountain: (misnamed when garnets were found) near Nathrop, six miles south of Buena Vista you can find spessartite garnet, yellow topaz, and obsidian in perlite. Make sure you stay on public land.
Nearby on Dorthy Hill and Sugarloaf Mountain you can find smoky quartz and sanadine.
At the abandoned Sedalia Copper Min, 4 miles south of Salida in Trout Creek Hills, you can find almandine garnet, staurlite, actinolite, epidote, corundum (sapphire), spinel, horneblend, chrysocolla, malachite and willemite.
This picture from irocks.com is of an amazonite and smoky quartz combo.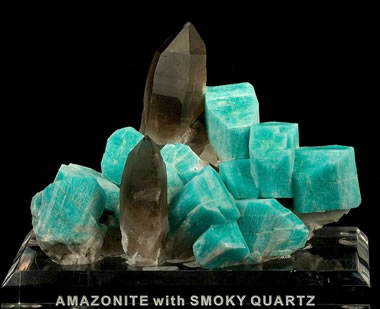 In the Taylor Mountain, Cree Creek area you can find quartz crystals, limonite cubes, malachite and galena in the tailings of old mines.
In the Trout Creek Pass area you can find jasper, agate, and pink microcline feldspar. The south and east slopes are best.
This is a photo from the summit of Trout Creek Pass from youtube.
So, as you can see, just in one county, you could spend many happy weeks looking for - and finding - all kinds of rocks!