The California state mineral - no surprise here - is gold. The California Gold Rush (1848-1855) brought over 300,000 people to the California territory to settle the state. Many were Americans, but people came from all over the world - Latin America, Australia, Asia, and Europe. Most didn't find their fortune, BUT, they did build roads and towns, established ranches and farms,and drew the railroad west to the coast. The very violent era of the Gold Rush was followed by a period of anti-foreign legislation and vigilante attacks against (especially) Latin American and Chinese immigrants. The Rush also resulted in a state-sponsored genocide of the Native Americans who had lived in California's Great Basin for over 14.000 years.
At one time, there were over 16,500 gold mines in California - most are now gone; the busy towns, now ghost towns and even most of those have disappeared. The state has saved some of them in Historic Parks, among them Marshall Gold Discovery State Historic Park, Columbia State Historic Park, and the California State Historic Park (Shasta). This picture is of Bodie; this ghost town has a hollow grave stone used to hide booze during prohibition, and is said to have a curse.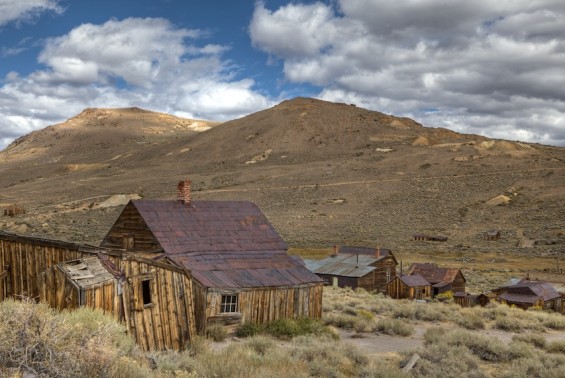 Gold mining in California during the Gold Rush started with simply picking up nuggets and flakes since the gold was so plentiful and easy to find. They then moved on to panning gold (sluicing water and silt in a pan so the heavier gold settles in the bottom). This method is still frequently used today. But, as gold became harder to find, more invasive methods of mining were developed. Placer mining (think panning on a much larger scale with machines) became common, then by 1853, hydraulic mining and dredging came into practice. Hydraulic mining had the unfortunate effect of causing run off of gravel, silt and heavy metals; this led to pollution of rivers, streams and groundwater. Hard rock mining was also used; this involved extracting gold from (usually) quartz rock using mercury as an amalgam. This caused additional pollution. Really, any commercial mining of gold today is a heavy pollutant to the area around the mines. Fortunately, most gold on the market today is actually recycled gold. There are still active commercial mines in California and it remains an important economic source for the state. So, in 1965 when gold was declared the state mineral, Governor Ed Brown recognized the "intimate" history gold and California have.
There is a current little Gold Rush going on in California. The historic drought has caused rivers and streams to drop to the point were gold is now accessible where it once was not. This picture is of gold in quartz from the state's geological site.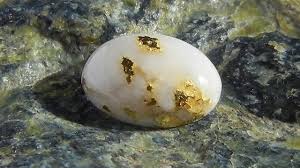 Gold can still be found all over California. Maps for the various regions can be requested from several state agencies. In dry southern California, hobbyists often use metal detectors to locate gold; further north, panning is still common. Information from the California Bureau of Land Management provides information on where looking for gold is legal for the general public.
Most sites are under claim, so you must have permission from the owner (and usually pay a fee) to look for gold; however, there are places where there is no claim and you can look for gold (often for free). Some of the free places I've found include: Butte Recreation, Keyesvill, Redding, South Yuba River, Merced River, Auburn State Recreation Area; El Dorado National Forest, Tahoe National Forest; Hangtown's Gold Bug Park, Marshall Gold Discovery State Historic Park, and Columbia State Historic Park.
Make sure you get exact locations in these areas. This is how I found my own California gold flake - at a park where you can pan. Now, it would have been nice to go out looking in a more natural setting, but I was short on time and money and, I have to say, I had a blast learning how to pan and finding my own little piece of gold. I highly recommend it - and the kids that were there seemed to really enjoy it too. Great family vacation! These pictures are from the State website and Parent magazine respectively.