Northeast Arizona has an abundance of petrified wood - much of this land is owned by the Navaho Nation, the Bureau of Land Management or private owners. But, there is a great place to go see the colorful petrified wood - The Petrified Forest National Park. This park is known for fossils of trees that grew in the region during the Late Triassic Period, about 225 million years ago. Many other fossils and gological formation can be seen in the park. The earliest inhabitants documnted arrived here about 8000 years ago and there are over 600 archeological sites in the park as well. This is a picture of some of the fossils found in the park.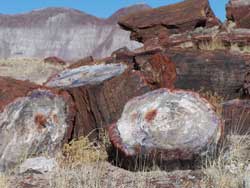 Most of the fossilized wood here comes from Araucarioxylon arizonicum trees, although at least nine species of fossil trees have been identified in Arizona; all are extinct. Here's an artist's rendition of what Araucarioxylon arizonicum probably looked like.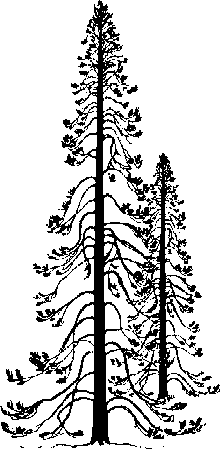 These fossils formed when trees, wood, plants and animals were buried under sediment containing volcanic ash. Groundwater leeched silica from the ash into the logs, etc. creating quartz crystals that replaced the organic cells. The many colors exhibited in the Arizona petrified wood come frpm iron and other oxides and minerals. This picture from Tom Wolfe shows some of the colors that can be seen.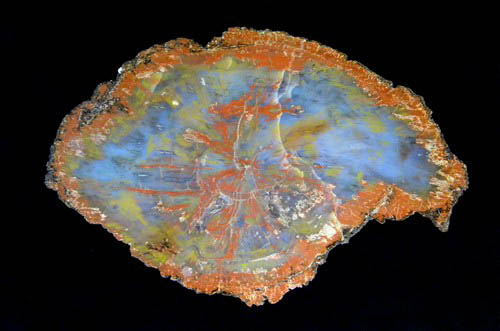 Theft in the park has been and continues to be a big problem and has been since people found the site. Getting caught comes with a big fine ($350) but the real problem is the Petrified Forest Curse. Many theives have had such bad luck after stealing the petrified wood, they mail it back or bring it back! There is an entire room at the Visitor's Center dedicated to these cursed thieves.
At one time, Route 66 ran through the park. If you are interested in collecting petrified wood in Arizona, there are ways and places to do it. Check out Jim Stoops blog on his trip which includes information about where to go.
http://www.mcrocks.com/ftr11-1/StoopsAugust2011.html
In addition to the fossils, there are over 600 archaeological sites in the Petrified Forest National Park indicating that human habitation began at least 8000 years ago. This photo from the National Park Service shows petroglyphs in PFNP known as Newspaper Rock.